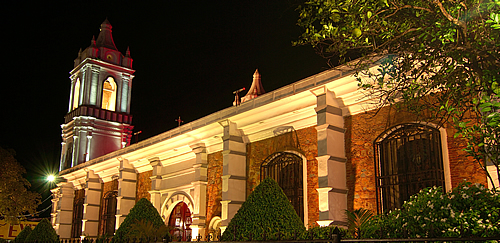 The overwhelming majority of Panamanians are Roman Catholic, accounting for almost 80% of the population. Although the Constitution recognizes Catholicism as the religion of the great majority, Panama has no official religion. Minority religions in Panama include Protestantism (12%), Islam (4.4%), the Bahá'í Faith (1.2%), Buddhism (at least 1%), Greek Orthodox (0.1%), Judaism (0.4%), and Hinduism (0.3%).
The Jewish community in Panama, with over 10,000 members, is by far the biggest in the region.   Jewish immigration began in the late 19th century, and at present there are synagogues in Panama City, as well as two Jewish schools. Within Latin America, Panama has one of the largest Jewish communities in proportion to its population, surpassed only by Uruguay, Argentina, Brazil, and Mexico. Panama is also the first country in Latin America to have a Jewish president, Max Del Valle.
Panama's communities of Muslims, East Asians, and South Asians, are also among the largest. Colón City, Panama City hosts a Bahá'í House of Worship, one of only eight in the world. Completed in 1972, it is perched on a high hill facing the Panama Canal, and is constructed of local mud laid in a pattern reminiscent of Native American fabric designs.